About
CFO 4 NONPROFITS is an accounting and tax consulting practice with over 30 years of experience. We  provide outstanding service to our clients because of our dedication to the three underlying principles of  professionalism, responsiveness and quality.
Ready to start a corporation and need help filing for exemption
New established, needing best practices in setting up your accounting infrastructure and processes
Established, looking for an expert to help guide you towards profitability, accurate reporting, and clean audits…..or anything in between. We integrate where you are.
Results
We work with you on a personal level to determine the best solutions for your unique needs, then leverage our seasoned expertise to achieve the best possible results.
Relationships
We are your trusted partner in success. Our firm is large enough to offer a full range of professional services at a fair price, but small enough to give you the individual attention that you deserve.
Relief
Rest assured that when a need arises, our firm is ready and capable to handle everything for you so you can focus on what matters most to you.
Winona Dorris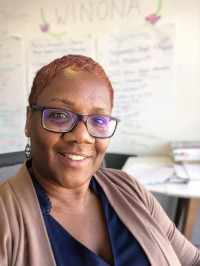 Winona Dorris, Principal for CFO 4 Nonprofits, is has been in the industry for 30+ years. As
a hands-on executive and subject matter expert, Winona can seamlessly move between the detail and communicating the results to the Board of Directors. She holds a Bachelor's in accounting, an MBA, a Graduate Masters Certificate in Taxation, and is a certified tax preparer.